Swimming season is in full swing, and if you've found yourself wondering if there are some better tools to help you care for your pool, you've come to the right place.
Dive into a world of crystal-clear waters and shimmering relaxation with this ultimate guide to pool cleaning supplies!
Whether you're a proud pool owner looking to keep your oasis pristine or a swimming enthusiast dreaming of a sparkling paradise, this article is your one-stop destination.
At Eden Spas, we understand that the key to a truly enjoyable swimming experience lies in the cleanliness of your pool. That's why we're here to equip you with the knowledge and tools you need to care for your pool like a pro!
Keep reading to unveil the ultimate list of pool cleaning supplies to make maintenance effortless and keep your pool clean and your water sparkling!
Things to Consider When Choosing Your Supplies
Not all pool cleaning supplies are made equally, and some won't be a good match for every pool.
When it comes to your pool brushes, vacuums, and even your chemicals, there are two things you'll want to consider before purchasing your pool cleaning supplies.
The Materials Of Your Pool
The most significant aspect to consider is what your pool is made of.
While many pools will have vinyl liners, concrete pools or tile pools may not, which influences the types of supplies you'll need.
For example, pool brushes come in a variety of styles, with some having harder bristles than others.
Do you think you'd need the same strength of bristles for a vinyl pool that you would for a concrete one?
Absolutely not!
In fact, if the bristle of your brush is too stiff, you could tear your liner, leaving you with an expensive repair on your hands!
Your Cleaning Style
The other factor that will influence the pool supplies you choose will be your cleaning style.
If you're someone who enjoys the process of caring for the various elements of your home, you may prefer to buy supplies that require manual labour.
However, if you prefer a more hands-off approach, it may be worth considering advanced options, such as a robotic vacuum that can clean your pool while you're at work.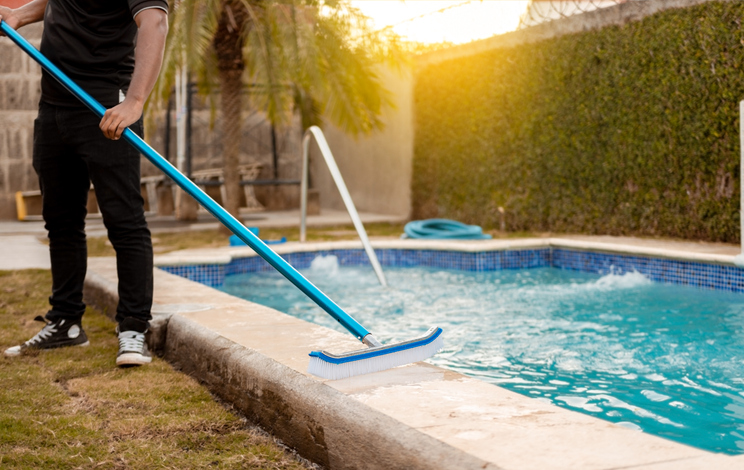 7 Essential Pool Cleaning Supplies For Clean Water
Now that you have an idea of what kinds of pool cleaning supplies you may need, let's dive into seven of the best supplies you'll want to consider!
1. pH Strips and Pool Chemicals
Before you can even jump into your pool, you'll need to have some way to test your water and various water treatment chemicals on hand.
To test your water, you can use either a water test kit, pH strips, or a digital meter.
These products provide vital information about the quality of your water and help you understand how you need to treat it to ensure it's safe.
After testing your water, you'll know which chemicals you'll need to add, such as:
pH increaser
pH decreaser
Alkalinity increaser
Sanitizer (chlorine or bromine)
Shock
These are the basic pool chemicals you'll need, but you may also want to include an algaecide, stain and metal remover, and calcium hardness increaser in your routine as well.
2. Pool Nets and Skimmers
Throughout the summer, your pool will be exposed to falling leaves, pollen, and bugs.
No matter how well you care for your pool, finding debris floating along its surface is inevitable.
Having pool nets and skimmers allows you to quickly lift any debris out of your pool without needing to jump in to reach it.
Pool nets are especially helpful if your pool is located below a tree and experiences heavier debris than those in the open.
These nets offer a deep, bucket-like shape, letting you scoop up larger amounts of debris and cut down your cleaning time.
3. Pool Brush
While your chemicals and skimmers will keep your pool water sparkling clean, the underwater surfaces of your pool will need some additional attention.
Over time, contaminants that enter your water will cling to the walls and floor of your pool.
This can leave them feeling slippery when touched and can even result in a burst of grime being kicked into the water as you touch the walls.
Brushing your walls will help lift this sediment and make it possible for your vacuum to remove it from your pool water.
4. Pool Vacuum
As mentioned above, after brushing your pool, you'll want to vacuum its walls and floor to pull any of that grime out of the water.
Pool vacuums come in various forms, and each one has its pros and cons.
Some vacuums are paired with brushes so that you can brush the walls while the vacuum immediately pulls the sediment out of the water.
Others suction to the side of your pool and slowly suck up any debris it moves over.
The most high-tech, hands-off solution is a robotic vacuum.
Many robotic vacuums have brushes attached that can help loosen any sediment while the vacuum strips it from the water.
Better yet, because the only work they require from you is to simply put them in the water, you're regaining some time that would have otherwise been spent manually cleaning your pool!
5. Pool Thermometer
While knowing the temperature of your pool water helps you gauge whether it's warm enough to dive into, it serves another purpose; knowing when you'll need to add additional chemicals.
Of course, when you test your water, you'll know how much of your water treatment products you'll need to add, and you should never add them without first testing your water.
However, the temperature of your water will influence how effective your chemicals will be and how quickly they'll be used up.
Knowing the temperature of your water can help you be aware of those times when your water is warm enough to break down your chemicals faster.
6. Telescopic Pole
Have you ever been cleaning your pool and noticed you're trying to balance on the edge as you attempt to reach the center with your brush or skimmer?
While acrobatics are fun, you shouldn't need them to clean your pool!
This is where telescopic poles come in.
These ultra-long poles ensure you can easily reach the center of your pool without having to worry about falling in!
Better yet, many of these poles are adjustable, ensuring every member of your household can easily clean the pool, no matter their height.
7. Pool Cover
Another aspect of keeping your water clean is covering your pool anytime it's not being used.
Pool covers come in many different styles, and often go far beyond simply keeping falling debris from getting into your water.
Some work as a barrier to trap heat, helping to warm the water of your pool without the need for a heater.
Others serve as a secondary safety measure, locking in place and stretching taught along the surface of your pool, reducing the risk of children or animals falling in.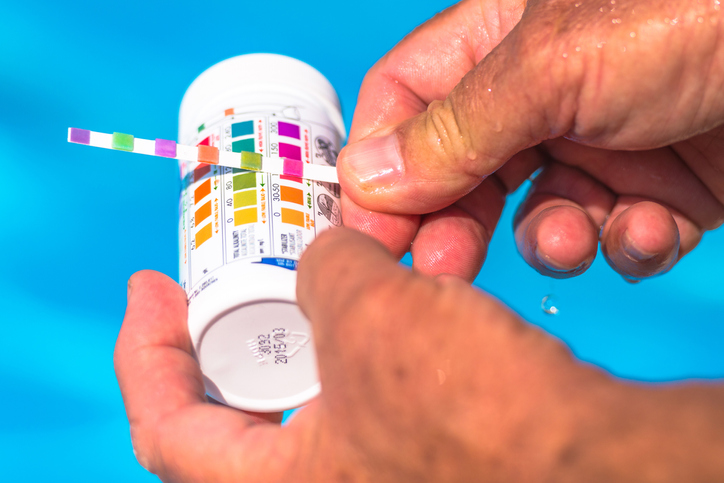 Weekly Pool Maintenance Schedule
Having the right supplies only goes so far.
When it comes to keeping your water welcoming, you need to know when you'll need to use those supplies.
Your pool maintenance schedule is just as crucial to your water quality as the supplies you use, and we want you to be completely prepared to master your pool care!
To make caring for your pool as effortless as possible, follow the schedule below.
Daily
Check your water temperature
Test your water
Add any necessary treatment products
Skim the surface
Clean the skimmer basket
Weekly
Brush the underwater surfaces
Vacuum
While cleaning your pool may seem like a daunting task at first, following this schedule can help take the stress out of your water care.
Shop Pool Cleaning Supplies in Prince George, BC
Are you looking for a reliable team to install your custom pool?
Need to restock your pool cleaning supplies?
At Eden Spas, we've got everything you need! Our team has been serving the community of Prince George for nearly 20 years, elevating their backyards into dreamy escapes.
Whether you're in the market for a new in-ground pool, need support to care for yours, or simply want some guidance on the best chemicals to use, our experts are happy to help.
Visit our showroom, or contact us today to get started!