So, you've decided to get a hot tub. What's next?
Preparing for your new spa's delivery and installation is key, and there are various steps you'll need to take before it arrives.
Not sure where to begin?
This hot tub installation guide has everything you need to get started!
Below you'll learn about the various important steps to take to prepare for your hot tub's arrival, learn about different foundations to support your spa, and get an insight into how much your installation may cost.
Let's begin.
Hot Tub Installation Guide – Getting Started
Buying your spa is only the first step in hot tub ownership, and you won't want to be caught unprepared on delivery day.
Your installation efforts play a significant role in protecting your investment, so you can enjoy many years of luxurious relaxation free from unexpected damage and wear and tear.
Luckily, with just a few considerations, you'll be well on your way to being ready.
The best part? Getting your backyard ready to welcome your new relaxation haven won't need to be (and shouldn't be) done alone!
Choose Your Location
Your location is an important factor in both your enjoyment and the ease of your installation.
Ideally, your location should be chosen prior to buying your hot tub to ensure the model you choose can fit into that space.
With that said, here are some key elements you'll want to consider when selecting your spa's new home:
Access to a water source
Privacy
Protection
Accessibility
Electrical hookup
Depending on your backyard, you may not have a spot that meets all these considerations, and that's okay.
If this is the case, focus on a location that will allow you to easily refill your spa, will make your electrical hookup easy to install, and ensures getting in and out of your spa won't be a challenge.
Look into Potential Required Permits
Depending on your installation needs, you may need to apply for permits.
This is especially important if you're building a new structure to support your new spa. Prior to starting the process of laying a foundation and preparing for your spa, you'll want to look into any permits your city or province requires.
Find Your Spa Installation Team
Many steps of your hot tub installation can be done DIY style, but there is one element that will require outside help–your electrical hookup.
While there are 110V hot tubs that can plug directly into a standard outlet, most hot tubs will require their own electrical hookup since they require 220V or more to function.
Ask your dealership if they have an electrician they can recommend, or look for certified contractors in your area to run the electrical hookup for you.
Install Your Foundation
Finally, you'll want to install your hot tub foundation, ensuring it's completely cured and ready for your spa on delivery day.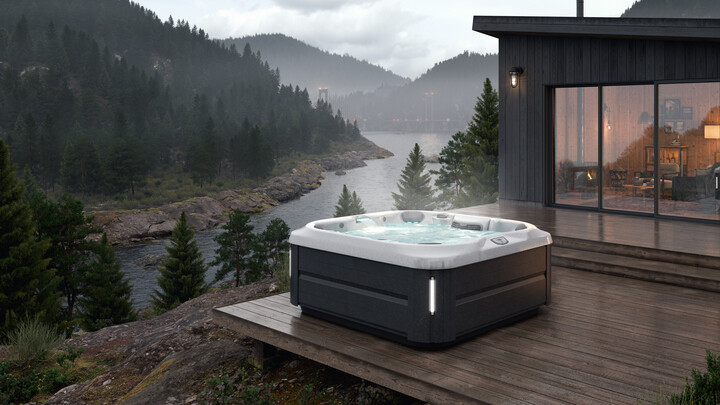 5 Types of Hot Tub Foundations
One of the most crucial elements of installing your hot tub is placing it on a sturdy, level foundation.
This will ensure your spa doesn't slowly sink into the earth over the years, while protecting it from damage, such as rot from the moisture in the ground.
That's not the only purpose of your foundation, however.
It also helps keep your spa level, ensuring weight is evenly distributed, maintaining its longevity.
When it comes to your foundation, there are a few different options to choose from, and the one you choose will come down to your overall budget, aesthetic, and time restraints.
1. Concrete Slabs
Concrete slabs are often the first choice for many homeowners due to their durability and stability.
Designed to handle substantial weight, these slabs ensure your hot tub remains secure and balanced.
Advantages
Concrete slabs are incredibly long-lasting and can support even the heaviest of hot tubs.
This solid foundation prevents the tub from sinking or becoming uneven over time.
Moreover, its impervious nature means water drainage or spillage won't cause damage or degradation, ensuring your hot tub space remains pristine for years.
Considerations
While concrete is reliable, it's also permanent. Once you pour a slab, relocating your tub in the future suddenly requires much more work.
However, if you've chosen the right spot for your hot tub, it's unlikely you'll need to relocate your spa after it's been installed.
Additionally, it can take several days for the concrete to cure fully, so you'll need to have your foundation poured well in advance of your hot tub's arrival.
2. Spa Pads
Spa pads are a relatively modern alternative to the conventional concrete foundation. These are pre-made, interlocking grids designed specifically to bear the weight of hot tubs.
Advantages
The primary benefit of spa pads is their convenience. Installation is swift, eliminating the wait time associated with concrete curing.
They're also relocatable, allowing you the flexibility to relocate your spa in the future if needed.
Furthermore, spa pads are designed for proper drainage, ensuring water doesn't pool around your tub, making them a stress-free option.
One of the biggest advantages of spa pads is their easy installation, avoiding the need for permits or new permanent structures added to your backyard.
Additionally, because you can DIY their installation, they're great for anyone sticking to a budget!
Considerations
While spa pads offer an easy install, they do still require an additional base beneath them to ensure they are level and able to withstand the weight of your hot tub for the years to come.
The best way to do this is to lay a base of compacted sand under the pad, ensuring it's perfectly level and won't sink into the ground.
3. Paver Stones
Pavers, often made of stone or brick, offer a luxurious touch to your hot tub foundation. They are individual pieces arranged to create a cohesive and visually pleasing platform.
Paving stones are a popular option for walkways or patios, so opting to use them as your foundation can ensure you create a cohesive base for your spa that seamlessly blends with your existing patio.
Advantages
One of the biggest advantages of using paving stones for your foundation is that they are individual stones.
This ensures it's easy for you to replace any damaged stones without having to redo the entire foundation.
And, of course, their ability to match your current aesthetic is certainly an appealing aspect!
Considerations
Installation can be time-consuming, as each paver must be set correctly to ensure an even and stable platform.
This means the ground below must be meticulously prepared to prevent shifting, sinking or an uneven surface.
Another factor to consider with paving stones is the natural growth of weeds or grass underneath.
Have you ever been walking down the sidewalk and noticed weeds poking out between the cracks?
A similar thing can happen with paving stones, so you'll need to ensure you properly prepare the ground below to avoid weeds pushing through.
4. Crushed Gravel
An affordable and popular choice, crushed gravel offers a different aesthetic and feel for your hot tub base.
While many people may at first think of using pea gravel, often found in playgrounds, this type of gravel is too smooth and will shift under the weight of your spa, resulting in an uneven surface.
Crushed gravel has jagged edges, which lock together to create a stable base that provides ample drainage.
Advantages
Crushed gravel is budget-friendly and provides excellent drainage, reducing concerns about water pooling or causing damage.
Not only does it provide a protective base, but it's easy to install, taking some of the work out of your installation process.
Furthermore, the natural look of gravel can also complement garden settings beautifully.
Considerations
Over time, gravel can shift, potentially leading to an uneven hot tub base. This could mean that regular maintenance, like refilling and levelling, might be required.
Of course, ensuring you use crushed gravel can keep this to a minimum, but it remains a possibility.
Additionally, much like paving stones, weed growth through the gravel can be a concern you'll want to consider.
5. Existing Decks & Patios
For homeowners with an existing patio or deck, this could serve as a convenient base for the hot tub.
The only exception when it comes to using existing structures in your backyard is that they're able to withstand the filled weight of your hot tub.
Prior to using your current deck or patio, ensure it's level, sturdy, and durable.
Advantages
If you're able to use your existing patio or deck, you've just made your installation that's much easier, and more affordable!
There will be no need to spend any time or money creating a secondary foundation for your spa, and instead, you can focus on the next aspects of your installation, such as running the proper electrical hookups.
Considerations
You must evaluate the strength and integrity of your patio. Any signs of damage or wear should be addressed before tub installation.
Weight distribution is crucial; a full hot tub is exceptionally heavy, and not all patios might be equipped to handle the load without additional reinforcement.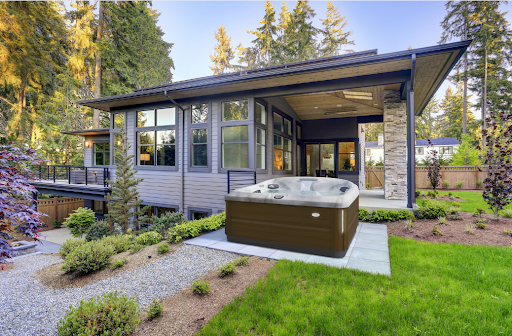 Hot Tub Installation Costs
Embarking on the journey of installing a hot tub in your backyard is undoubtedly exciting, but it's essential to have a clear picture of the associated costs.
On average, hot tub installations can range from $1,000 to $3,000 or even more, depending on several factors, such as the installation type, contractor cost, and the type of foundation you choose.
Also, keep in mind that this is a long-term investment, so future maintenance costs and utility bills should be factored into your overall budget.
Hot Tubs For Sale in Prince George, BC
Eden Spas in Prince George, BC, is here to make your hot tub ownership journey truly effortless.
With our wide selection of spas, we'll help you discover the model that perfectly aligns with your needs, and be by your side through it all.
From delivery, installation, and future service, we'll be here!
Contact us, or visit our showroom today to learn more about our process.