Imagine the perfect evening: a starry night, a gentle breeze, and the soothing embrace of warm water all around you.
Picture this experience elevated to a level of pure luxury, where relaxation knows no bounds.
Welcome to the world of Jacuzzi® hot tubs, where opulence meets affordability in a harmonious blend of hydrotherapy and indulgence.
In this article, we'll take you on a journey through the Jacuzzi® brand's exquisite range of luxury hot tubs, with a focus on their top models from each collection.
Whether you're dreaming of a lavish escape or seeking a budget-friendly option, we have you covered.
Get ready to immerse yourself in the world of luxury hot tubs as we explore the features, benefits, and unique characteristics of five affordable premium spas.
Whether you're a first-time buyer or a seasoned hot tub enthusiast, you're going to LOVE these luxury hot tubs–and your bank account won't mind, either.
The Jacuzzi® Play™ Collection
As the original pioneers of hydrotherapy, this collection provides an economical way to incorporate high-quality hydrotherapy into your daily routine.
Soul™ Hot Tub (Affordability: $)
The Jacuzzi® Play™ Soul™ hot tub is a remarkable addition to the Play™ Collection, designed to bring affordable, premium hydrotherapy within reach of everyone.
This spacious hot tub comfortably seats six adults, with a combination of lounge seating and contoured seats to accommodate various preferences.
Featuring 30 adjustable stainless steel 2-tone jets, the Soul™ Hot Tub delivers a targeted foot massage experience in both the full-body lounge and the seating area.
The hydrotherapy jets are complemented by an adjustable water fountain with LED lighting, creating a serene ambiance for your relaxation.
In terms of construction, the Soul™ hot tub boasts both quality and efficiency. It is built using patented Syncrylic® material, ensuring durability and longevity.
The easy-to-use digital control system, along with full foam insulation, enhances energy efficiency while maintaining your desired water temperature.
Maintenance is a breeze with the Soul™ hot tub, thanks to innovative Jacuzzi® technology,  making this luxury hot tub both easy to clean and maintain:
Super seal interlocking weather shield cover
Patented filtration system
Solid hot tub surface
Wear-resistant cabinetry
As a special offering, the Suite Package includes matching steps with storage, a handrail, and a cover lifter; providing convenience and accessibility.
This affordable luxury hot tub allows you to experience the soothing relief of hydrotherapy without breaking the bank; all while enjoying the comfort, efficiency, and ease of maintenance that come with it.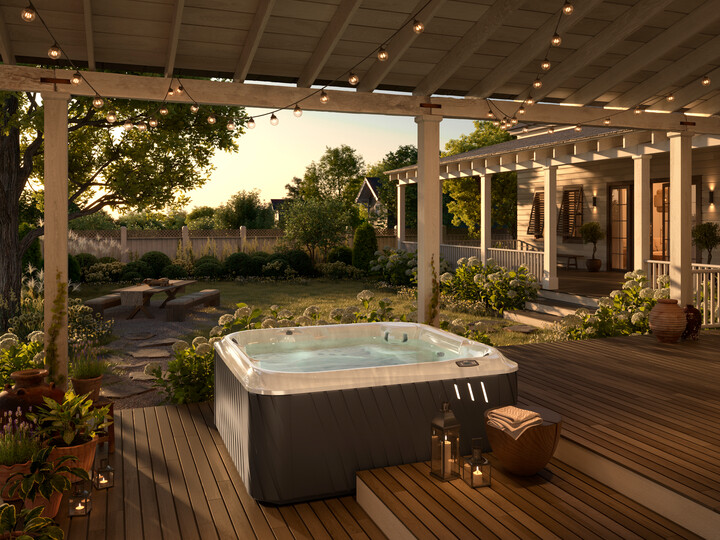 The J-200™ Collection
The J-200™ Collection offers an exceptional hydromassage experience, designed to alleviate daily stress without breaking the bank.
J-285™ Hot Tub (Affordability: $$)
The J-285™ hot tub is a spacious and user-friendly model that can comfortably seat up to seven adults.
Its open seating arrangement allows for a versatile and social spa experience.
With 44 powerful jets strategically placed throughout the spa, this luxury hot tub provides a comprehensive hydromassage that offers relaxation and relief for the whole body.
One of its notable features is the stunning cabinetry, designed for easy access without the need for tools.
This spa's unique design features illuminated accents on the stunning cabinetry, as well as backlit pillows for added interior ambiance and comfort.
For its modest price tag, The J-285™ model boasts a great range of premium features:
Targeted relaxation; including back, shoulders, and neck massages
Ergonomic seats
A large jetted foot dome
Four cup holders for added convenience
Proprietary jets with stainless steel accents
User-friendly controls
Patented ProClassic™ filtration technology
CLEARRAY® UV-C purification system
Our favourite feature? The stress-relief seat, which focuses on the shoulders and provides large muscle coverage down the spine, effectively eliminating stress and strain.
The J-285™ luxury hot tub is truly a haven of relaxation and rejuvenation for those seeking a top-tier hydromassage experience.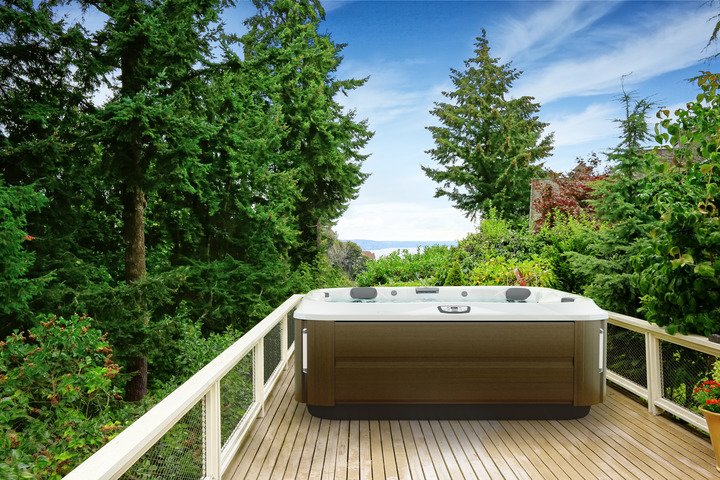 The J-300™ Comfort Collection
The Signature J-300™ Collection prioritizes comfort as its key feature, offering top-notch amenities and superior sophistication.
J-375™ Hot Tub (Affordability: $$$)
The J-375™ hot tub is a spacious and luxurious hot tub offering a range of seating options to cater to your comfort and relaxation needs.
With enough seating to fit six adults, including a full-body lounge seat and ergonomically-designed therapy seats, this luxury hot tub provides a diverse and customizable experience.
Notably, it features the largest lounge seating in any Jacuzzi® collection, and is equipped with PowerPro® jets, providing a powerful and soothing hydromassage.
The HydroSoothe™ no-splash jetted massage pillow enhances your head and neck massage experience, sending water cascading down your neck and shoulders.
The J-375™ hot tub stands out with its ProAir™ Lounge seat, ensuring a full-body relaxation experience.
Its ProFinish™ cabinetry, along with optional corner accent lighting, adds sophistication to the design.
This premium hot tub is also user-friendly, featuring an easy-to-use control panel.
The seating in the J-375™ spa is designed for ultimate comfort, with ergonomically-shaped seats and adjustable headrests.
Each seating option in the J-375™ model has unique benefits:
The RX Lounge seat provides tension-easing relief with wrist jets and a bubbling effect
Alternatively, the PowerPro® Therapy Seat targets key areas of the neck, shoulders, and back to relieve pain and tension.
The FX Seat focuses on releasing muscle knots and stimulating surrounding tissue with spiraling, pulsating jets for comprehensive back coverage, while calf jets soothe strained legs.
Have we got your attention yet? Without hitting the top-tier expense category, this mid-range spa has certainly earned its position in our list of top luxury hot tubs!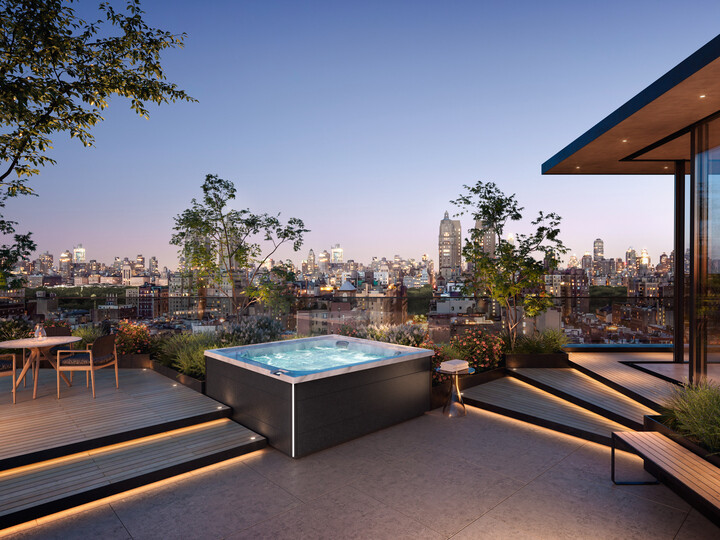 The J-LX® Collection
Characterized by clean, uncomplicated aesthetics that surround the inviting water, this collection features exclusive patent-pending Infrared and Red Light therapy.
J-LXL™ Hot Tub (Affordability: $$$$)
The J-LXL® hot tub is a cutting-edge wellness experience designed for relaxation and rejuvenation.
With seating for six adults, including a full-body lounge seat, it offers a range of comfortable choices.
Its modern design features sleek aesthetics, an infinity-edge waterfall, and multi-layer insulation for superior energy efficiency.
What sets the J-LXL® spa apart is its patent-pending Infrared (IR) and Red Light therapy, which takes hydrotherapy to the next level.
Jacuzzi® is the pioneer in offering IR and Red Light therapy across various wellness products, including saunas, swim spas, and hot tubs.
In the J-LXL® Collection, the FX-IR Seat combines these therapies with hydromassage for unmatched rejuvenation.
This seat targets specific muscle groups with customizable flow and feel, delivering a transformative experience.
It also makes maintenance a breeze by incorporating ozone and UV-C technology for hassle-free water care, reducing the need for frequent water changes.
Additionally, if you opt for the SmartTub® system upgrade, you can monitor and control your hot tub remotely through smartphones and other smart devices!
Simply talk to voice assistants like Siri® and Alexa®, providing peace of mind from anywhere in the world.
Brand new to the market, the J-LXL® hot tub is a state-of-the-art wellness oasis, and should absolutely be considered a frontliner in the luxury hot tub industry.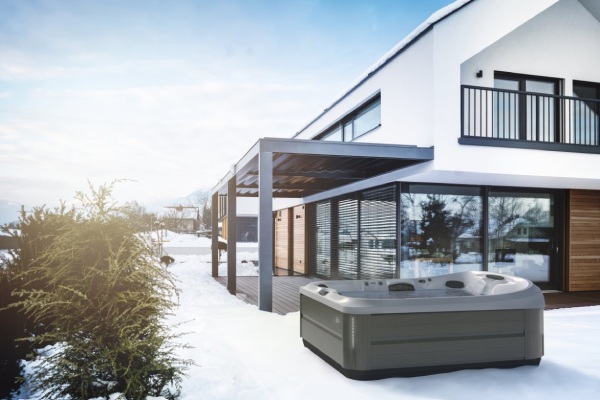 The J-400™ Designer Collection
The Designer collection adds a touch of stylish elegance, with premium lighting elements and a backlit waterfall, making it one of our top choices for a premium spa experience.
J-495™ Hot Tub (Affordability: $$$$$)
The J-495™ hot tub is the largest model in the Jacuzzi® Brand lineup, accommodating up to 9 adults in open seating.
Its high-back design sets it apart and offers a distinctive spa experience.
This design not only adds a wave of elegance but also shields you from the elements, creating a blissful oasis you can look forward to retreating to year-round.
The J-495™ hot tub features stunning ProFinish™ cabinetry, with corner accent lighting and a color touchscreen control panel.
The wide-sheet waterfall design, along with premium LED lighting, enhances the visual appeal of the J-495™, making it a sight to behold in any setting.
This impressive luxury hot tub boasts a whopping 71 premium Jacuzzi® PowerPro™ jets, providing a wide variety of therapeutic combinations.
One of the unique features of the J-495™ is its exclusive bench seat for two, allowing for side-by-side massages, and easy mobility within the tub.
Or you can call shotgun and claim the coveted MX Jet Therapy Seat, which delivers a bold neck and back massage.
Opt for the RX Therapy Seat, if you're looking for a high-performance hydromassage with Swedish-style back coverage, and calf jets to ease aches and strain.
The remaining open seating design offers nine distinct Jacuzzi® PowerPro™ Jets, including the RX Jets for back relaxation.
Ultimately, the J-495™ hot tub stands out as one of the best models due to its combination of size, seating capacity, advanced features, and luxurious design.
It provides a spa experience that is not only relaxing and therapeutic, but also ideal for socializing and entertaining–making it a top choice for those seeking the ultimate luxury hot tub experience.
Affordable Luxury Hot Tubs in Prince George, BC
So, you CAN afford a luxury hot tub!
Regardless of budget, Eden Spas can set you up in blissful indulgence. Visit our showroom to see these models in person…or better yet, bring your swimsuit to soak before you buy!
Our team of Jacuzzi® experts will guide you through the process, and will be happy to answer any questions you may have about our luxury hot tubs.
Let Eden Spas transport your backyard to a blissful oasis!